Cheerful, with the attractive red, white and green palette, strawberries are beloved motifs for fabrics, furnishings and decorative objects.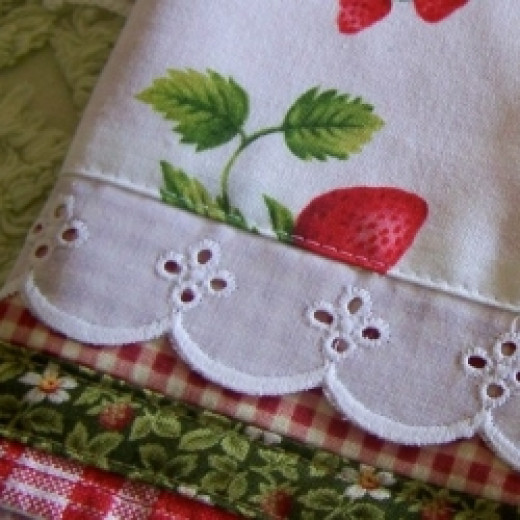 Strawberry Fields Forever
Everybody probably has some sort of design motif that is their favorite, whether it derives from its colors, or shape, or other connection to memory or loved object. Maybe a motif is as simple as a pattern that has an unconscious resonance for us with harmonies in nature.
For me, I somehow have always loved strawberry plant designs. I even gravitate toward the red, green and white color combination in home décor choices as a sort of default.
This hub is for all those, who like me, love the humble strawberry… in fruit and in flower.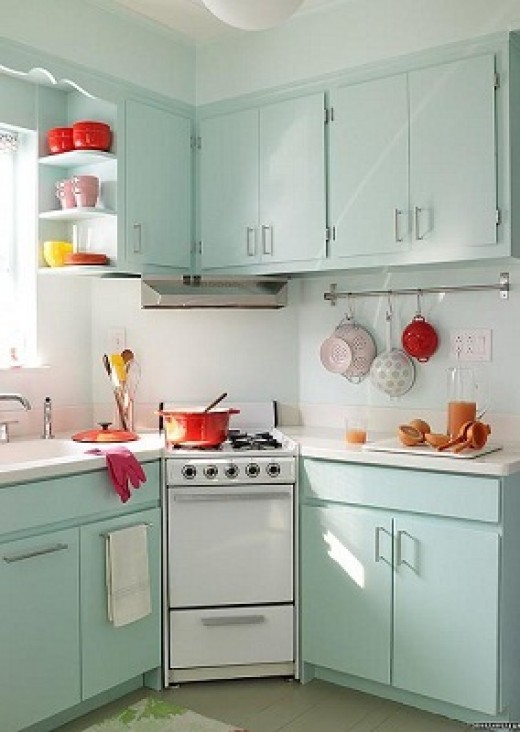 Kitchen Strawberries
Beautiful interpretations of the brightly colorful strawberry
Strawberries, perhaps because of their cheerful appearance- those bright red berries with golden little polka-dot seeds and beautiful green leaves, are cheerful. Is that why we are drawn to decorate with them in painting them on furnishings or printing them on fabrics?
Equally attractive when framed with black or a white background, they are common in tole painting projects and often are popular with kitchen accessories. After all, what is more at home in the kitchen than a bright luscious strawberry design? The colors the delicious food motif, bring a bright note to many styles of kitchen decor.
Imagine your everyday meals dressed up with this cheerful strawberry decorated dinnerware.
Take a look at just a few of the examples of kitchen products that employ the cheerful strawberry:
Wild Strawberry Special Occasion – Delicate Strawberry Flowers and Runners
The delicate strawberry flowers bring a completely different feeling of pastel prettiness to many famous designs, such as the Wedgwood chinaware.
Wedgwood Wild Strawberry 5 Piece Place Setting
One of the prettiest designs possible. A beloved design from the famous Wedgewood pottery.
Would You Like to Learn to Paint Strawberries?
Strawberry Tole Designs – Folk style painting
Toleware – A favorite decorative paint method
As pretty as they are, you know strawberries will show up in decorative painting! One of my favorite forms is the tole painting method. It is a method that can be easily learned and there are many tutorial books and classes available to learn from.
Start with a watercolor tutorial and then experiment with acrylics and oils.
It is traditional to use methods of painting fruits and flowers on wood and tinware, but if the metal work of antique lamps or chairs have lots their color- there are ways to restore the bright berries and leaves. All much simpler than you might have imagined.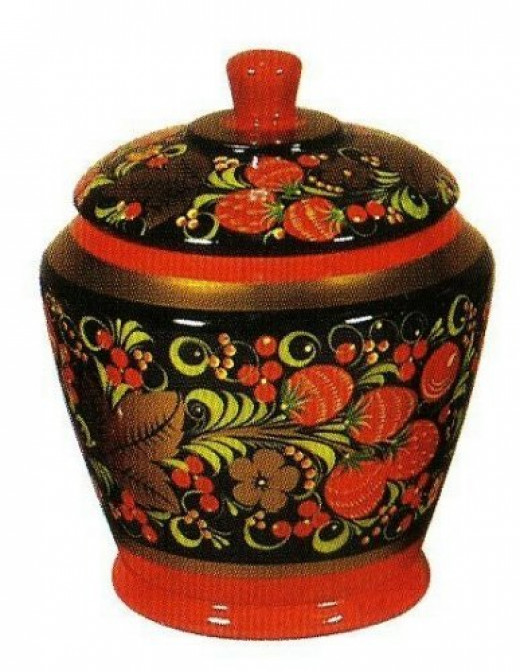 Cultures with decorative painting techniques: Norwegian and Swedish Rosemaling, Pennsylvania Dutch Tole, Russion Khokhloma.
Russion Khokhloma
"Khokhloma is an ancient Russian folk handicraft which appeared in the 17th century in Nizhny Novgorod. This is a decorative painting of wooden utensils and furniture in red, black and goldish color. Green and yellow paint is occasionally used. Traditional elements of Khokhloma are red juicy rowan berries and strawberries, flowers and twigs."
– Wikipedia
"Khokhloma craft is over three hundred years old. It first appeared in the northern part of the Volga region and originated from icon painting. In the 17th century the craft developed near Khokhloma village of Semyonov district. Thus, wooden painted plates and dishes became known as Khokhloma utensils. And the craft itself acquired the name of Khokhloma."
Norwegian or Swedish Rosemaling
Rosemaling technique of folk painting is better known and centers on the rose as a motif, but there are a wide range of flowers and fruits which are painted into the swirls and scrolls of this exuberant and colorful folk decorating technique.
The the three main styles are Telemark, Hallingdal and Rogaland, named after the regions where they originated. There are five basic brush strokes, the C and reverse C (or parentheses stroke), the S curve, the O (or circle stroke), the straight line and the dot, and from these are built quite intricate designs.
Tole Painting
"Tole painting is the folk art of decorative painting on tin and wooden utensils, objects and furniture. Typical metal objects include utensils, coffee pots, and similar household items. Wooden objects include tables, chairs, and chests, including hope chests, toyboxes and jewelry boxes.
The practice began in 18th century New England, and was also extensively carried on among German immigrants in Pennsylvania." -Wikipedia
Khokhloma – Russian Strawberry Motif Tole Painting

Khokhloma Russian Nesting Doll 5pc./4″ by Golden Cockerel
Strawberry Decor Bits and Bobs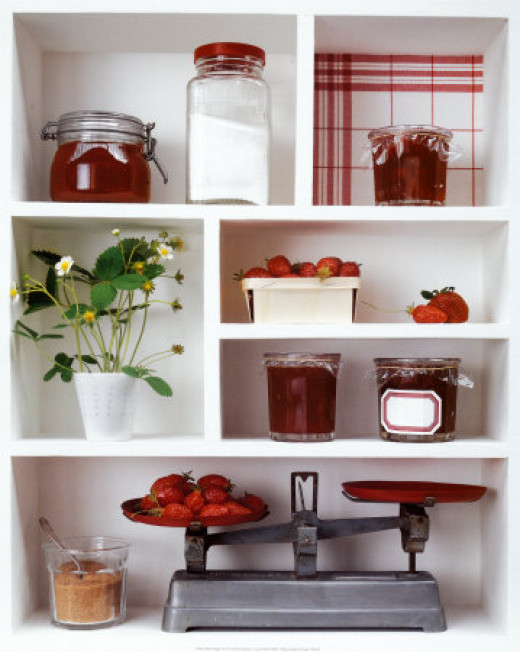 Strawberries Everyday – Happy and bright colors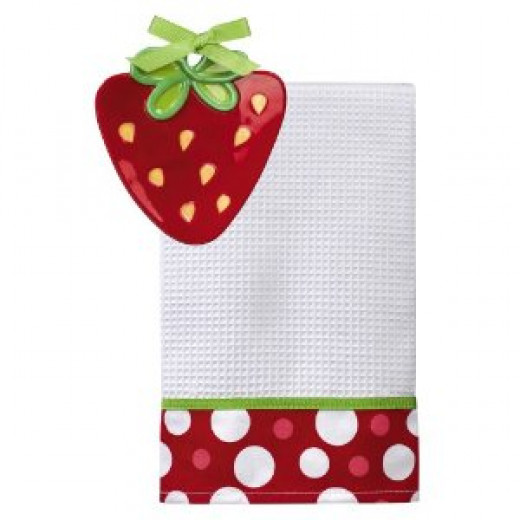 Red, White, and Green Cheers Up The Room
Strawberry Decor
Strawberry plants and their fruit are most often a theme for country style décor. It is a natural motif for kitchens, whether on wallpaper, as accents in dishware, kitchenware, or towels and table linens.
A colander like this is fun and decorative- makes time in the kitchen cheerier.
Berries Outside the Kitchen
Strawberry Fabrics – Brightens up everyone's day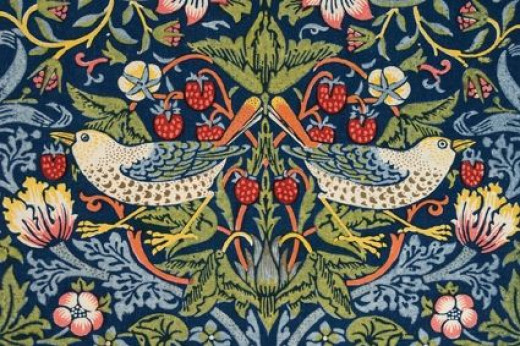 "Strawberry Thief" by William Morris was one of his most popular textile prints. It was also one of the most expensive to produce using the painstaking method that arts and crafts revived. Designed by Morris in May 1883, it is still printed in shades of green, blue and pink on a deep blue ground.
However, when an artist like William Morris created his famous fabric pattern, it was obvious that the humble red berries could be planted as easily on living room or bedroom furnishing to bring a bright note to rooms that were full of flowery chintz.
The bright red color and simple outlines could be with a bit of imagination, utilized in modern, more minimalist environments.
Red is often a popular accent color in modern interior design. So, if you love strawberries, don't feel that they have to remain in the kitchen!
Strawberry Pink
This pink is warm, with a definite tint of yellow, while still registering as a true pink.
In interiors it is most often seen in little girls rooms, or as an accent with pastel color schemes.
Bursting With Ripe Color
Strawberry Kitchen Accessories
Aprons or bedspreads, towels, or curtains, chair covers … if you have a strawberry fabric design there can be strawberries wherever you like.
Using a fabric ribbon with the design of berries can be applied to curtains, edging shelves, or trim for solid placemats.
I've seen ideas that include using decals to create your own strawberry pattern on kitchen appliances, decorative boxes, and even kitchen cupboard doors.
People do such creative things with bits of fabric and a needle and thread.
Strawberry Tray
A very nice tutorial with pattern and illustration for painting a strawberry design
Embroidered Strawberries

Embroidered Strawberries