The birthstone for the month of July is the Ruby, and the birth flower is the Larkspur.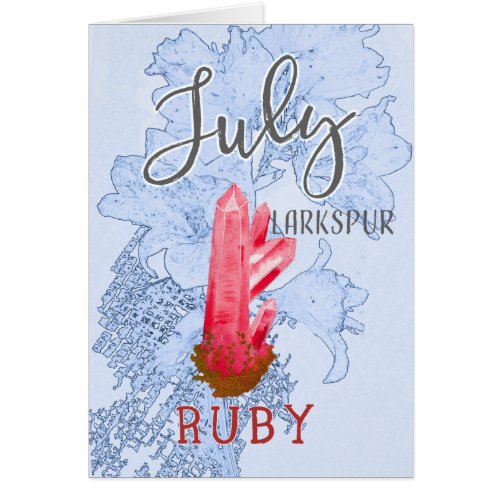 Holidays and special celebrations in the month of July.
01 International Joke Day
01 International Tartan Day
01 Canada Day
02 I Forgot Day
07 Chocolate Day
04 America's Independence Day
10 Kitten Day
10 Teddy Bears' Picnic Day
13 Cow Appreciation Day
14 Bastille Day
15 Respect Canada Day
17 Wrong Way Corrigan Day
20 Ugly Truck Contest Day
21 Ice Cream Cone Day
26 Aunt and Uncle Day
27 Take Plants for a Walk
28 National Parent's Day
28 System Administrators Day
30 Father-In-Law Day
30 Paperback Book Day
The highlight holiday is America's Independence Day! July 4th.
July is the National Blueberries Month. This is also Culinary Arts, Ice Cream, National Picnic, and World Watercolor Month.
During this month the Full Moon is called the Hay Moon and the Thunder Moon. To learn more about the names for full moons by different tribes and people see the page, Ancient Moon Month Names.